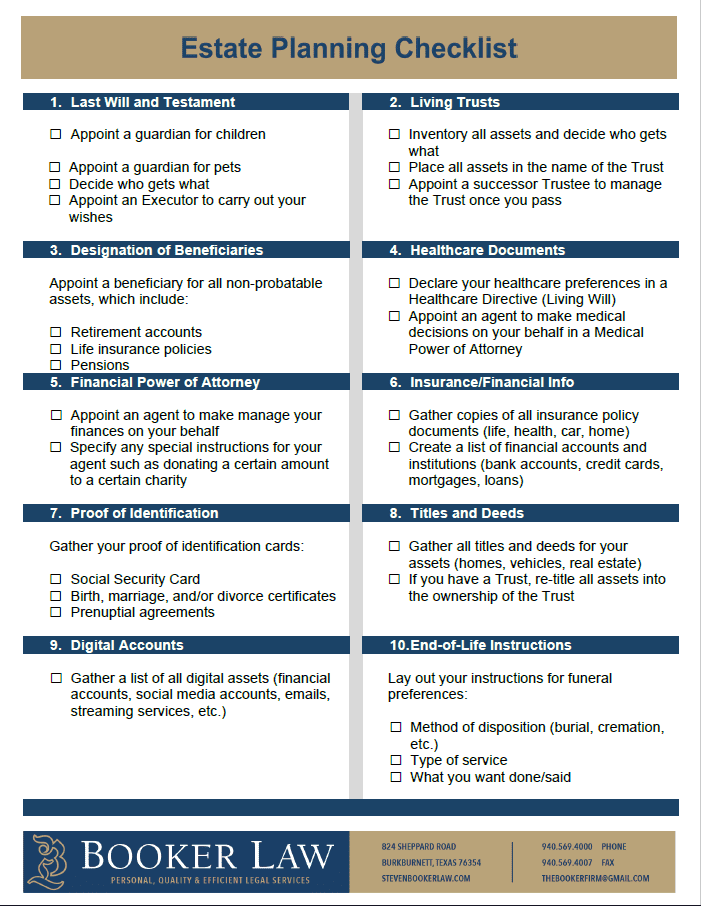 Estate planning is off putting to most people. Not only do they not want to plan for their death, but they are also overwhelmed by all the options and information out there. Luckily, they no longer have to be overwhelmed - with our Estate Planning Checklist, you can get a straight forward look at what's important.
This checklist is for everyone whether you are just now looking to get started creating an estate plan, or you already have one in place. If you're just getting started, you now have a list laid out for you to make sure you have everything in order. And if you already have one, now you have a guide to double check your existing plan against to make sure you aren't missing anything.
This checklist was made as a tool to help people ensure they have everything they need so they can have peace of mind knowing they have a solid, comprehensive, full-proof estate plan, not only so they are properly protected, but so everything is made easy and convenient for their loved ones.
This is a must-have resource for anyone interested in estate planning. You can download the PDF absolutely free simply by filling out the form below.
How to Download Our Estate Planning Checklist:
To download our Estate Planning Checklist, just enter your name and email below, and you will receive an email with the free PDF. This information is critical in crafting an effective estate plan, so don't wait!
All information provided to us will be kept confidential and will not be shared with any third parties. Furthermore, requesting our e-book does not create an attorney-client relationship.